You've probably heard about knee replacement surgery. This procedure successfully gives new life to worn out joints for millions of patients around the U.S. each year. However, in some cases, the knee replacement somehow goes awry and the new prosthetic knee may not work properly. In these cases, the patient may need to undergo a revision knee replacement surgery.
This is what happened to Tonie H. She had a total knee replacement with another doctor. More than a year later, she was limping and in severe pain. She essentially had no motion in her knee.  Tonie ended up having revision knee replacement surgery with Joseph W. Greene, M.D., board-certified orthopaedic surgeon at the Louisville Hip & Knee Institute. Now she says, "It's going on seven weeks and I'm doing great. He did an awesome job."
What happens during revision knee replacement surgery? Are these procedures common? Find out the eyes of one patient who recently underwent the procedure.
What Is Revision Knee Replacement Surgery?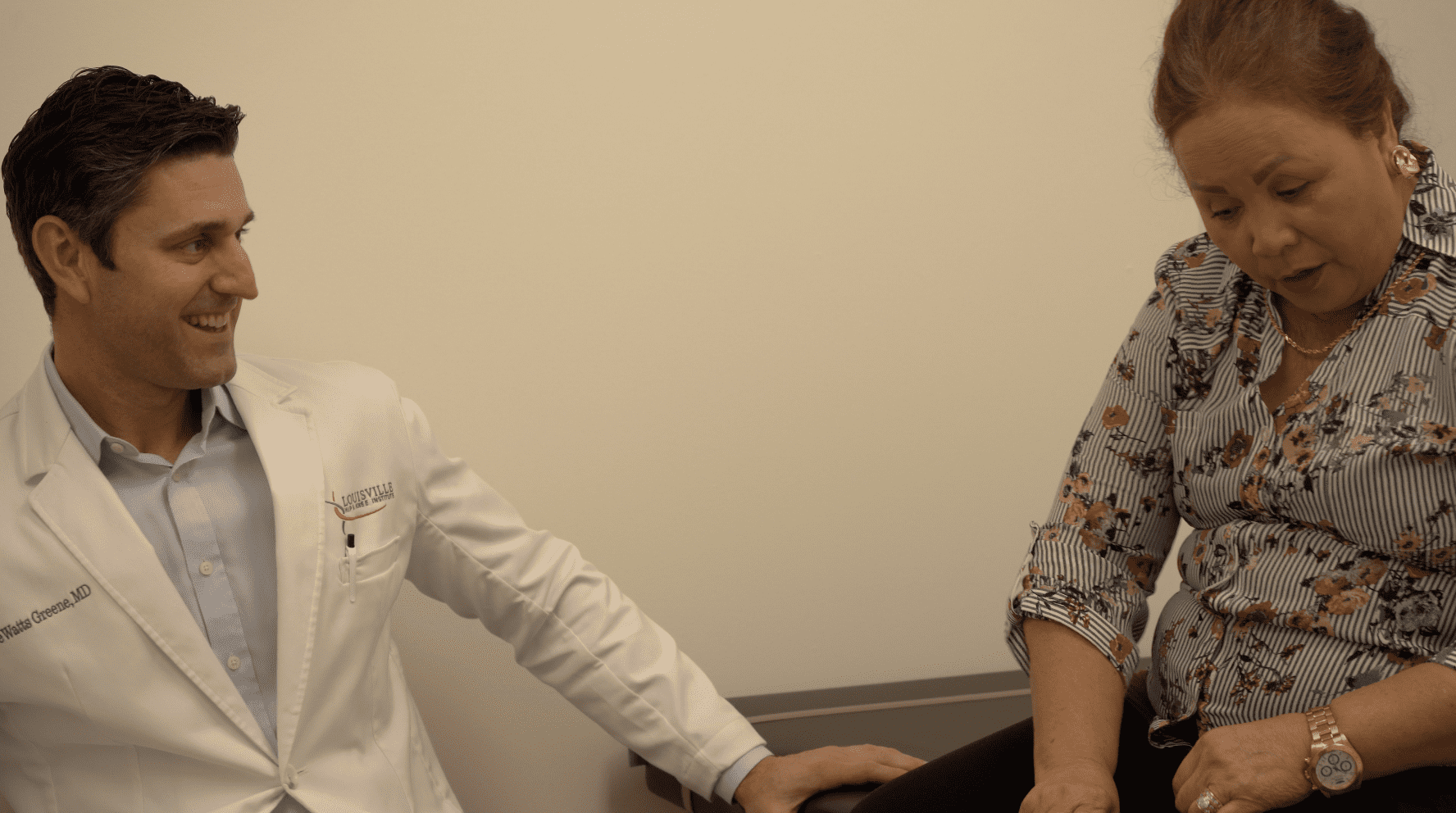 Knee replacement revision surgery, which is also called revision total knee arthroplasty, is a procedure where an orthopaedic surgeon removes a previously implanted artificial knee prosthesis and replaces it with a new one. The surgery may also use additional metal augments/pieces to create a fully functioning knee. 
Each year, more than 25,000 U.S patients undergo revision knee replacement surgery.  It is projected that in the U.S. more than 250,000 patients per year will need revision total knee replacement surgery by 2030.  Revision surgery is needed for a variety of reasons.  Typically, these surgeries occur because the knee prosthesis loosens over time or an infection is present.  Older prosthesis sometimes have wear of the plastic between the two metal pieces within a knee replacement.  This creates an inflammation process in the knee which can cause loosening of the cement or even cause bone loss around the prosthesis over time.  Sometimes severe scar tissue forms restricts motion in the knee. 
In Tonie's case, she says, "On my first surgery (with another doctor), I didn't have a great outcome. I was settling for my knee being like that. With this recovery, it was totally different." While 98% of knee replacement procedures do very well at restoring joint function and reducing pain, that was not Tonie's experience. 
She says, "I would have excruciating pain before my surgery with Dr. Greene." She just knew something wasn't right. Tonie says, "I had my first surgery with a different surgeon, and I didn't have a good recovery, but with Dr. Greene, I had a great recovery."
Is Revision Knee Replacement More Complicated Than a Regular Knee Replacement?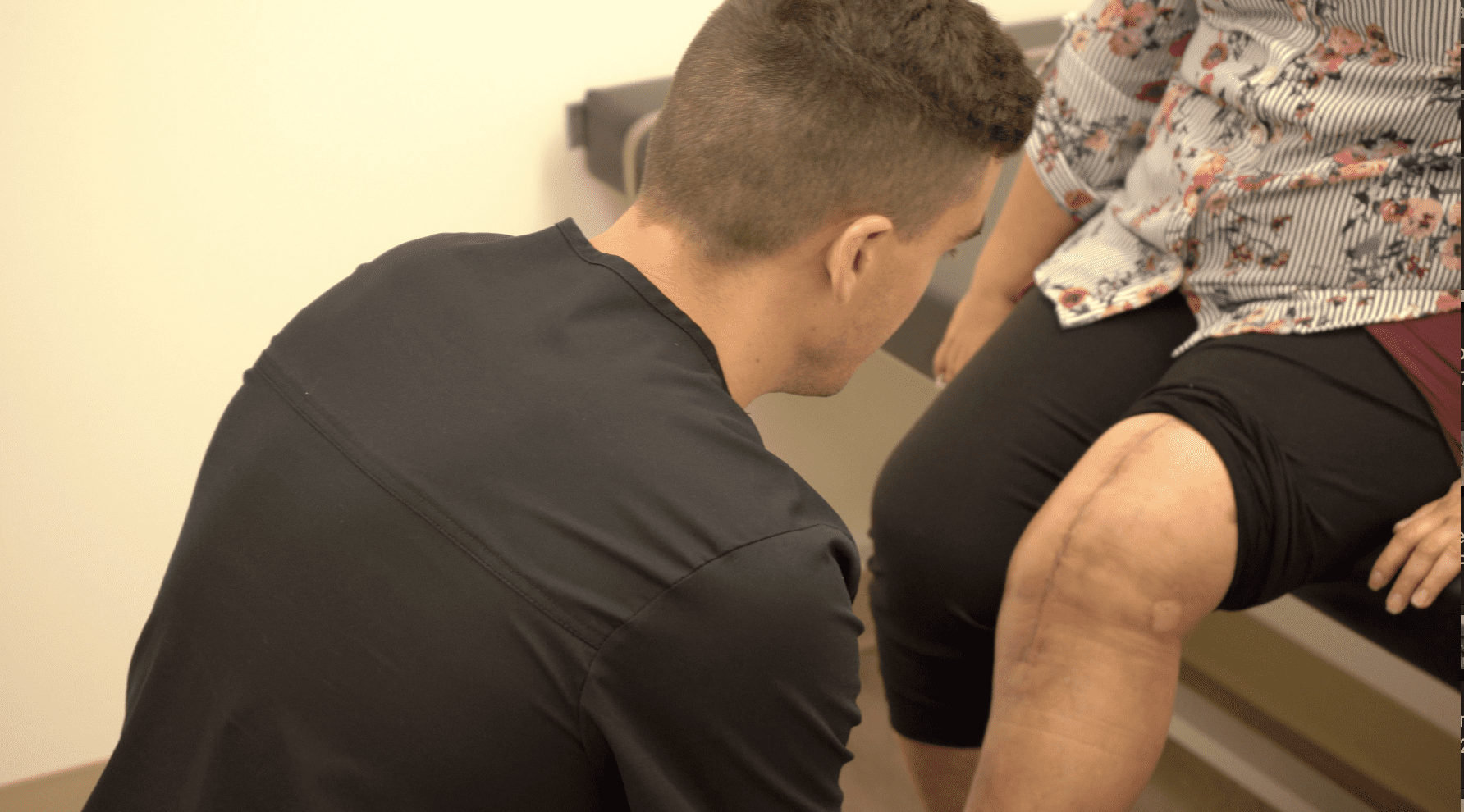 Revision surgery is more complicated than the initial knee replacement. Typically only  Orthopedic surgeons that specialize in hip and knee replacement perform revision knee replacements because of the complexity of the procedure. 
To start, the surgeon must remove the original prosthesis, which requires removing the cement that is typically used in primary knee replacement. When the prosthetic knee is removed, there may be less bone to work with so the surgeon must use additional metal components to recreate a functional knee joint. The procedure is much more complex and often takes longer to perform than a primary (first-time) knee replacement procedure. 
Tonie sought out a second opinion from another doctor who told her, "Tonie, you'd be worse off than you are now," should she undergo a revision knee replacement. So, Tonie resigned herself to a knee that wasn't fully functioning. "I was always limping," she says.
Even though Tonie did physical therapy on the knee, a year and a half later, her knee still wouldn't straighten out fully or bend properly. One knee didn't line up with the other. She says, "I walked every day—two hours every morning—and this lady watched me walk and said that's not right, what is going on?" She referred Tonie to the Louisville Hip & Knee Institute, where Dr. Greene and his team perform around 150 knee revision procedures a year. Tonie says, "I had confidence I was going to recover."
Within three weeks of meeting with Dr. Greene, he performed a total knee revision surgery. She says, "It was the most amazing thing I've ever done."
How Can Revision Knee Replacement Surgery Change Your Life?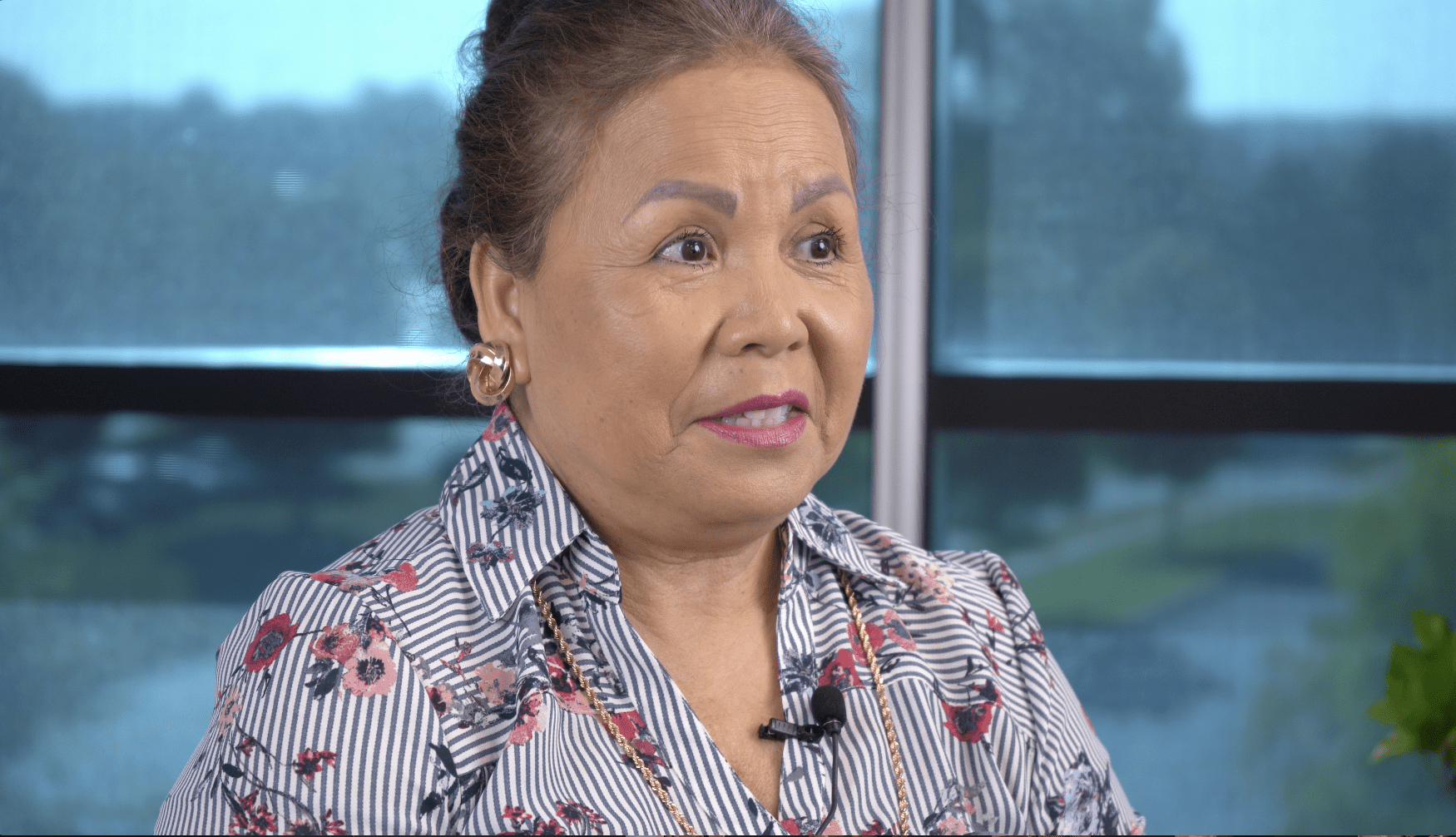 Just seven weeks after her revision knee replacement, Tonie is amazed. She says, "The biggest benefit is I'm able to function. I am able to bend my knee almost 100%. Before I went to Dr. Greene, I was only bending 30 degrees." 
Tonie's lack of mobility from the prior surgery put her next trip on hold. The long walk in the airport would have simply been out of her reach. Now, she says, "I'm going to see my Mom in the Philippines. Before, I would get very sad because I didn't like traveling. I would sit down and my foot would stick out. Now, I feel normal. I feel like a normal human being." 
Tonie also is back to enjoying her gardens. She says, "I'm working in my yard, watering my crepe myrtle. I'm doing all kinds of things now. Vacuuming my house—at seven weeks. Before, I would just get so tired, my knee was just not right."
From the first time she met Dr. Greene, Tonie felt like health was just within her reach. Tonie said Dr. Greene was, "Very friendly. Very positive. I had a great feeling on him. He had a great bedside manner. He assured you that you're going to recover well. I just loved him." 
She also felt very comfortable at the Louisville Hip & Knee Institute. She says, "All the staff here, with Dr. Greene, they are awesome. The overall environment, all of the staff, are welcoming. It's like a family atmosphere. It makes you feel like you are important."
Regain Your Freedom Through Revision Knee Replacement
Tonie concludes, "I would recommend Dr. Greene. "He's an awesome doctor. He knows what he's doing. He gave my life back. I'm a totally different human now. I'm able to bend my knee. I can't wait to go back and start walking two hours every morning." 
If you've had a prior knee replacement surgery and are unhappy with the outcome, please don't hesitate to contact our team online or give us a call at 502-HIP-KNEE (447-5633).
Get the latest news and updates from Louisville Hip & Knee Institute delivered straight to your inbox.