Sharon S. was in terrible pain. She recalls, "If it wasn't for my husband, I couldn't even get up a curb. It was the worst pain I've ever had." Lasting hip pain is one of the main symptoms that signal doctors that it's time to replace a patient's hip joint with a prosthetic. For patients like Sharon, hip replacement surgery can alleviate the pain and get them back on their feet (literally).
Sharon S. received the help she needed and had both of her hips replaced by Jonathan G. Yerasimides, M.D., one of the board-certified orthopaedists at Louisville Hip & Knee Institute. She now ranks among the more than 450,000 people this year who underwent hip replacement surgeries. Sharon says, "I feel pretty fantastic now because I can walk. Before I couldn't even get out of the chair without excruciating pain." 
What is it like to have a hip replacement? How did this surgery help Sharon overcome her pain? Let's take a look at how she felt before and after her hip replacement.
What Is Hip Replacement Surgery?
When a patient undergoes hip replacement surgery, an orthopaedic surgeon carefully removes the old, worn-out hip and replaces it with a state-of-the-art prosthetic. The operation is known for being incredibly safe and has a high success rate. In fact, The American Academy of Orthopaedic Surgeons (AAOS) claims that "hip replacement surgery is one of the most successful operations in all of medicine."  
The hip joint is one of the largest joints in the body and is composed of a ball that rests in a socket joint at the base of your hip. The ball pivots in the joint, giving you the freedom to walk, squat, and shake your legs. The hip joint consists of:
A ball of bone, called the femoral head, located at the top of the thigh bone (femur)

A socket, or cup–formed by the acetabulum–on the outside of the pelvis

Articular cartilage is smooth tissue that prevents the bones from grinding together

Thin synovial membrane tissue surrounding the joint that facilitates the movement of these parts

Ligaments or tissue bands that connect the ball to the socket and stabilize the joint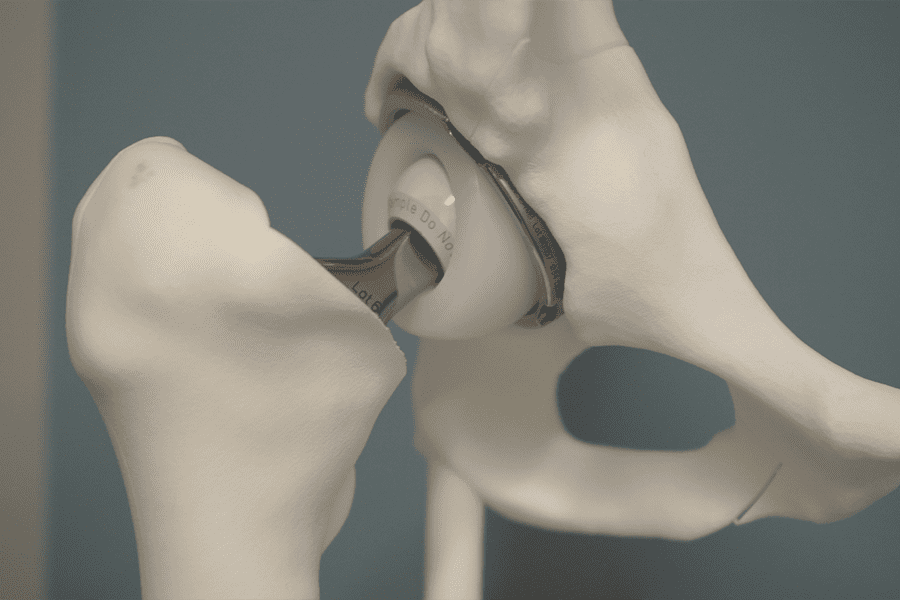 As you can see, the joint is composed of a complex set of interlocking parts. The steps involved in a hip replacement–also called hip arthroplasty–include:
Removing the femoral head and inserting a metal stem into the thigh bone

Adding a ceramic or metal ball at the end of the stem that fits into the new socket

Removing the hip socket and replacing it with a metal prosthetic cup

Adding a liner to the cup to replicate the smooth gliding action of natural cartilage
Why would someone require the full replacement of this important joint? Why did Sharon need not one, but both of her hips replaced?
Frank S., Sharon's husband says, "Her quality of life was very diminished. She was in a lot of pain." Restricted mobility and constant pain from a worn-out hip are some of the best indications that you may need a hip replacement.
Why Would I Need Hip Replacement?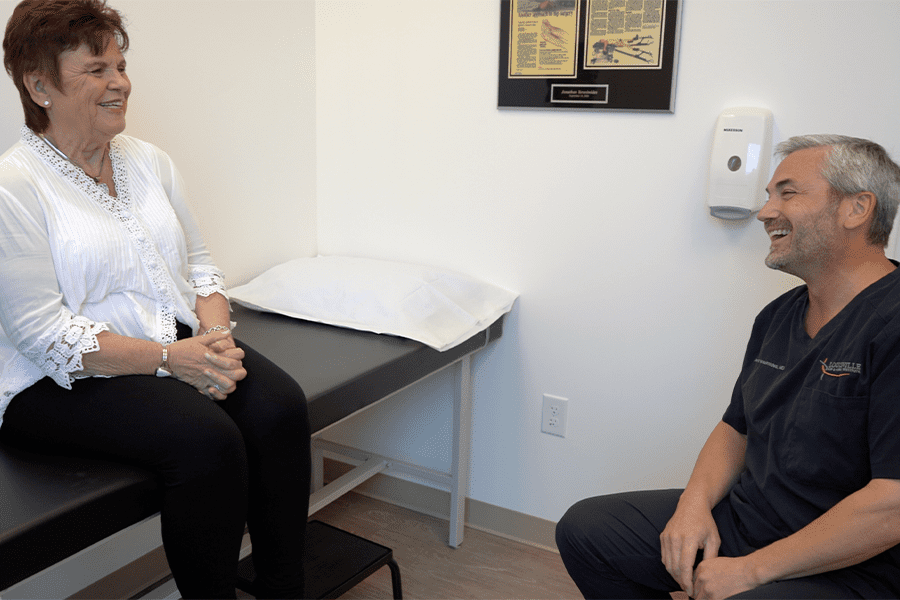 Worn-out, arthritic joints can negatively impact your quality of life. Joint pain is a chief indicator that hip replacement may be the key to getting your old life back. You can benefit from hip replacement if you have:
Pain in one or both hips that prevents you from everyday activities like walking, gardening, or even getting out of your chair

Pain that persists even when you're trying to sleep

Hip stiffness that restricts leg movement

Little to no relief when using anti-inflammatory medications, walking devices (such as a cane), or physical therapy
The decision to undergo any major surgery is an important one. Frank says, "It was a process to determine whether it was knee pain or hip pain" that was causing Sharon's discomfort. When Sharon met with Dr. Yerasimides, she had already endured years of pain from her worn-out hips. She recalls, "At the beginning, I thought, what hope is there for me? He said, 'It's a 10 but I can fix you." 
Sharon says, "It was so painful, I didn't know if it could be fixed." Unfortunately, her situation is not uncommon among hip replacement patients. Oftentimes patients try several other non-invasive treatments and put up with a great deal of discomfort before deciding that hip replacement surgery is their best option.
The AAOS says, "There are no absolute age or weight restrictions for total hip replacements." Doctors recommend hip replacement based on your level of pain and the degree of your disability. Each patient is different. In Sharon's case, she wound up having Dr. Yerasimides replace not one, but both hips. Today she is back to her normal activities and living life pain-free.
What's Recovery Like After a Hip Replacement?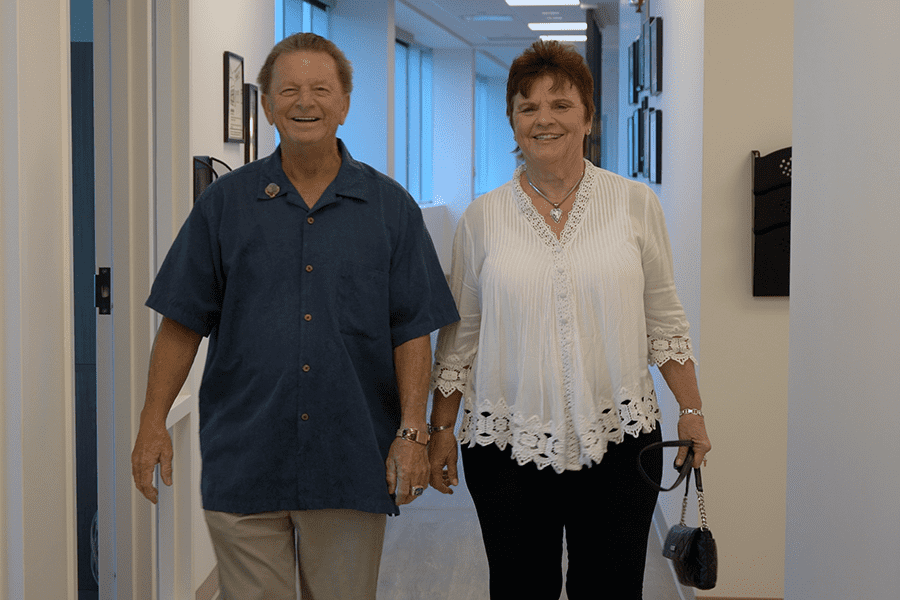 The success of your hip replacement surgery largely depends on your ability to follow your surgeon's aftercare instructions. Medications can help with pain, but they may not be needed for long. Most patients are surprised to find how quickly they heal and how much better they feel after their hip replacement surgery.
You will have staples or stitches to care for and a personalized after-care physical therapy routine to follow. Throughout the recovery process, your doctor will carefully monitor your healing journey to ensure the best possible outcome for the quality of your health. For this reason alone, it's important that you like and trust your orthopaedic surgeon. The two of you are on a team throughout this journey. 
Sharon and Frank were both extremely pleased at the results of her hip replacement. Sharon praises Dr. Yerasimides and his team for her successful hip replacement. She says, "He has a great bedside manner. His team and his staff make you feel very relaxed. They're very friendly. They answer all your questions."
Frank agrees. He says, "Dr. Y. is one of those individuals who are not only outstanding, he strives for excellence. He's one of the top doctors in the country for hip surgery."
If you are suffering from hip pain, the Louisville Hip & Knee Institute is here to provide you with professional support to help get you back on your feet. Contact us today to schedule a consultation with our experienced team.
Get the latest news and updates from Louisville Hip & Knee Institute delivered straight to your inbox.