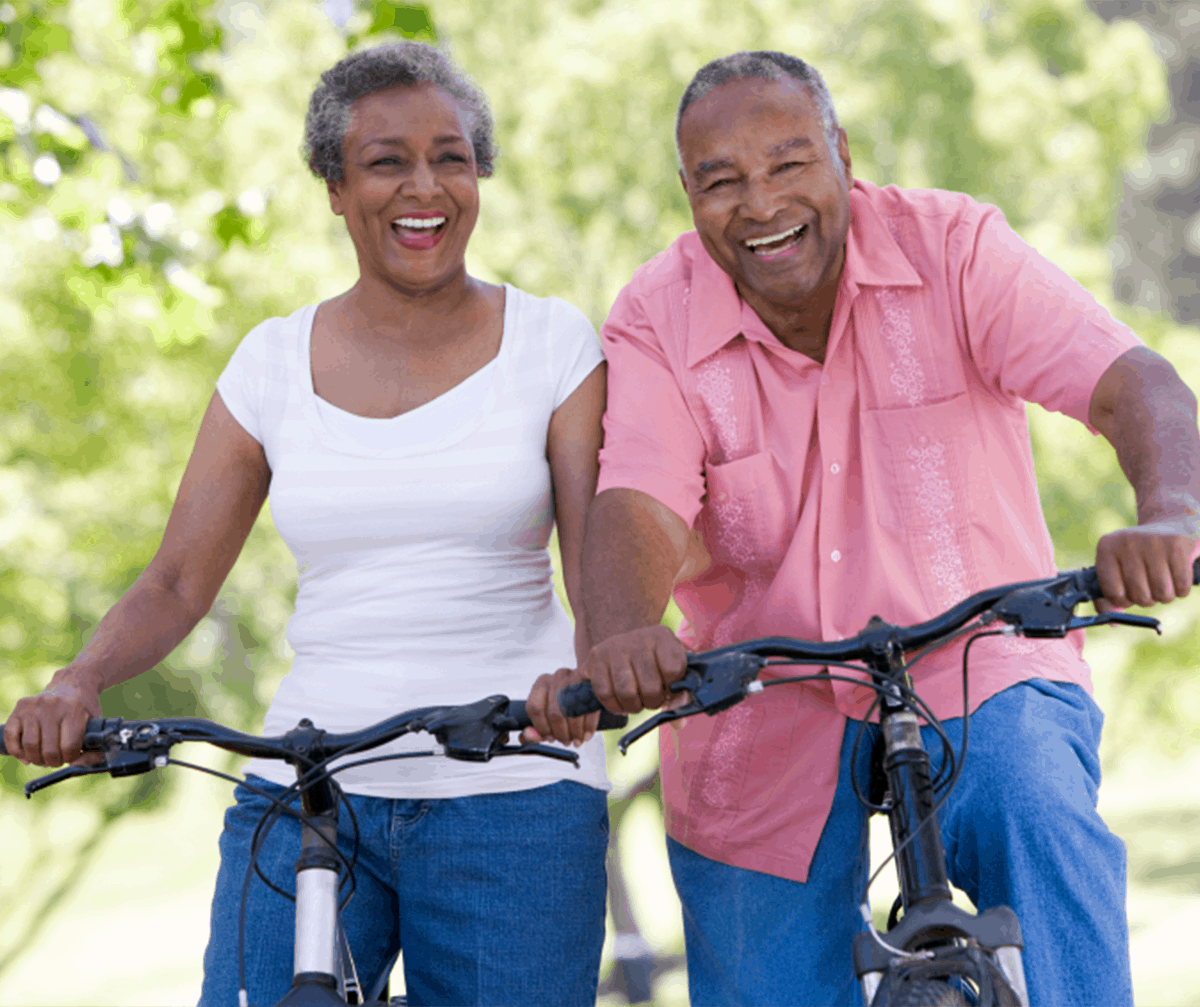 Total Knee Replacement
Nearly 1,000,000 people in the United States undergo total knee replacement surgery every year. Our experienced surgeons at Louisville Hip & Knee Institute are national leaders in knee replacement procedures.
We perform total knee replacement surgery using less invasive techniques, outpatient surgery, and innovative anesthesia techniques to improve your recovery. To schedule your knee replacement consultation, call our office or go online to book an appointment.
What is Total Knee Replacement?
Total knee replacement, or total knee arthroplasty, is a surgical procedure that replaces the damaged components of your knee with artificial implants. It's one of the most successful procedures in all of medicine.
One of the benefits of having your total knee replacement performed by the experts at Louisville Hip and Knee Institute is that it can be done as a same-day outpatient surgery. That means that your entire surgical experience is typically less than 8-hours long! This lets you go home quickly for rehab so you can be more comfortable, rest, and heal at home.
Why Would I Need Total Knee Replacement?
Osteoarthritis is a disease that causes the cartilage between your joints to break down. The disease is serious and debilitating, affecting one in four Americans, or 54.4 million Americans. By 2040 that number will grow to 78 million, according to the predictions. The disease affects every part of your life, from your social interactions and physical mobility to your mood and sleep quality.
Osteoarthritis commonly attacks the knee joints, which normally do a great job supporting us in our daily activities. The result can be severe damage to the cartilage and bones in the joint, which can severely impact your ability to do normal physical activities that we take for granted, such as walking to your mailbox, going up and down stairs, or playing with your grandchildren.
When the pain from the disease can no longer be treated, total knee replacement surgery can be a lifesaver, providing relief from the pain, stiffness, and frustrations that come from not being able to live your life to the fullest.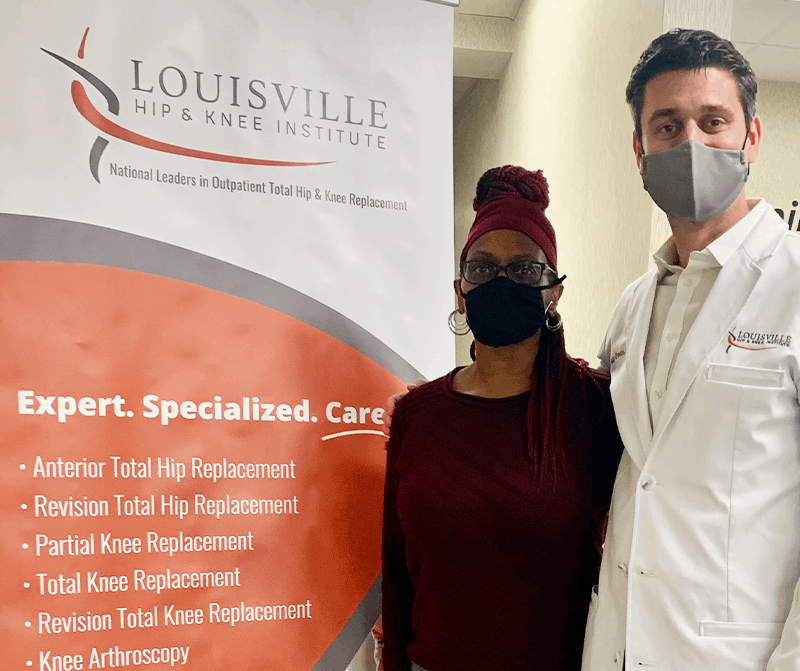 Am I a Good Candidate for Total Knee Replacement?
When you visit us at Louisville Hip and Knee Institute for a total knee replacement consultation, you will undergo a thorough exam to determine if you're a good candidate for the procedure.
During your exam, our team will X-ray and closely evaluate your knee to assess:
Range of motion
Strength and stability
Extent of knee joint damage
You may be a good candidate for a total knee replacement if you have a knee condition, such as osteoarthritis, that causes severe pain, limits your mobility, and affects more than one knee compartment and this is confirmed with physical exam and x-rays.
Many people worry about the recovery process, but we are strong believers that doing the correct procedure with our least invasive techniques will provide you with long-lasting pain relief. We believe that the more information you have about a procedure and the recovery process helps patients know what to expect, how to prepare for surgery, and recover quicker.
Using our multi-modal pain management, minimally invasive technique, and pre- and post-operative protocols developed by the Louisville Hip and Knee Institute, total knee replacements can be safely performed in the outpatient environment.
What are the Benefits of Total Knee Replacement?
The studies show the benefits of total knee replacement include:
Less pain and stiffness
Restoration of physical function
Higher vitality in the patient
Return to social functioning/normal activities
This description gives our patients a glimpse into the after effects of total knee replacement. The goal of the surgery is to replace a painful, worn out joint with a brand-new knee that functions smoothly in the way it was originally intended.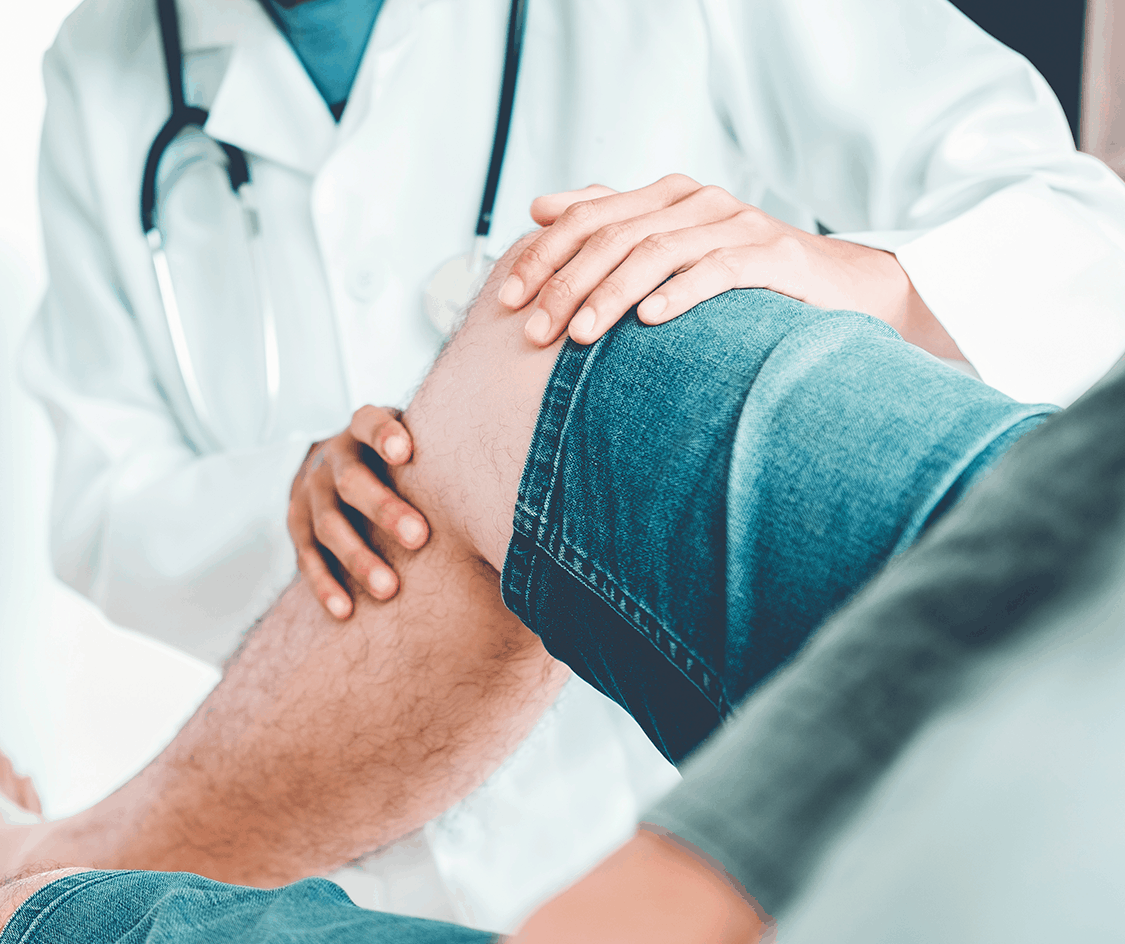 With minimally invasive outpatient total knee replacements, patients are able to return home within just a few hours after the surgery. Benefits of this advanced outpatient procedure for patients compared to a traditional inpatient total knee replacement include:
Less Risk of Hospital Acquired Infections including COVID-19
Decreased pain
Reduced scarring
Lower risk of infection
Less blood loss
Faster and safer return to function (work and activities)
How Long Does it Take to Recover from a Total Knee Replacement?
Recovery time from total knee replacement depends on many factors, including your overall health and wellness. In general, most people resume many of their usual activities within 6-8 weeks after a total knee replacement. To schedule your knee replacement consultation with us, call to book an appointment.
If you're suffering from knee pain, stiffness, loss of mobility, and a lowered quality of life, you don't have to. Total knee replacement surgery is just one of the state-of-the-art techniques we can use at Louisville Hip and Knee Institute to regain your mobility and quality of life.
Get the latest news and updates from Louisville Hip & Knee Institute delivered straight to your inbox.